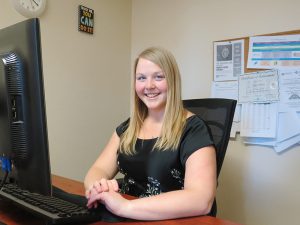 We are very excited to introduce you to one of our Team Leaders, Jenna Wray, who is in charge of our Comprehensive Care Team. Comprehensive Care provides respite care and community support services for people of all ages with developmental disabilities or chronic conditions, and their families.
How long have you been with the DDRC?
I started working at DDRC in August 2014, so two-and-a-half years now. And six months as the Team Leader for Comprehensive Care.
What made you want to work here?
I wanted to work with the DDRC originally as I was interested in the Client Services Coordinator position. I had never seen a role quite like it, and I could tell the Agency is ahead of the times by having a communication hub [for clients and their networks] like that. I continue working at the DDRC because of their willingness to grow and develop to better the lives of the individuals we support. I am also happy to work in a positive environment with such kind and friendly people!
What's the best part about being a Team Leader?
My favourite part about being a Team Leader is being able to converse and be actively involved with the team. I enjoy being able to coach others to better themselves, and the people they support. That's both with the frontline staff (Community Support Workers) and the office staff (Comprehensive Care Service Coordinators).
Can you tell us about a recent Comprehensive Care Team success?
A huge success is how we've been able to streamline our processes and having everyone working as many hours as they would like, with steady and consistent schedules.
What is a winter activity that you enjoy?
I really like snowshoeing in Kananaskis Country. It is so beautiful out there, and only an hour jaunt out of the city. I could happily go out every weekend!