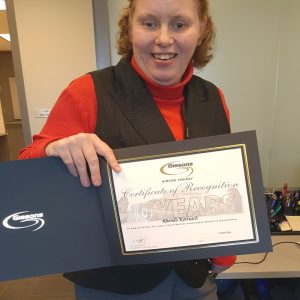 Central Team client Rhonda Kottusch has much to be proud of. After starting as an administrative assistant with Gibson Energy in 2006, she has recently celebrated her 10th anniversary with the company.
Working two days a week, Kottusch takes care of duties such as refilling paper in the printers and copiers around the office, stocking supplies in the locker rooms and mail rooms, and delivers mail around the building.
In her daily work, Kottusch uses an augmentative and alternative communication (AAC) device to speak with her co-workers. Her AAC device is a tablet with a touchscreen where she can select messages to be read by a digital voice. Outside of work, she uses her device for social interaction in the community, which has enhanced her quality of life.
Described as almost always smiling and having a positive attitude, Kottusch's coworkers value the effort and dedication she puts in at the office each day.
When not working, Kottusch likes to stay busy by being involved in sports, music, and drumming classes.