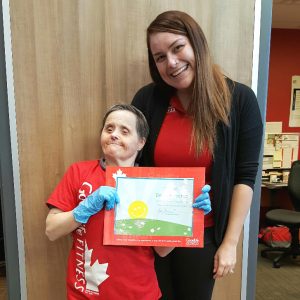 South Team client Eileen McLachlan is celebrating a proud anniversary this year; she has just reached her 12th year as an employee with GoodLife Fitness.
In her role at the Canyon Meadows location, McLachlan is described as diligent, positive, and enthusiastic when it comes to her work.
Kelsi Foreman, general manager at the gym, has worked alongside McLachlan for the past year, and said she feels it is "an honour" to be her co-worker.
"She is a light in our club," Foreman said. " I have seen so much growth in her ability and willingness to learn and adapt. Our club would not be the same without her."
Community Resource Worker Diwani Tan Aparis said that working with McLachlan is fun and fulfilling. "I admire her desire and love for work," she said.
"Her positive attitude, dedication, and hard work have garnered her lots of praise."