You may remember the interviews we conducted with Northeast Team Leader Cassandra Therens, Central Team Leader Selma Gearhart, or Northwest Team Leader Rochelle Hughes. Now it's time to head south and get to know our South Team Leader, Tobi Lynne Fowler.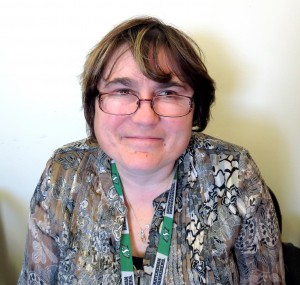 How long have you been with the DDRC?
A little over two years. I started as a CRW for the PACE team, and became the South Team leader just over a year ago.
What made you want to work here?
I've been in the industry for about 20 years. Before coming to the DDRC, I was providing in-home support. And after a couple of years I decided it was time to get back into the industry outside of my home because I wanted to make sure that my skills were kept up, and all of my training was up to date. I just didn't get the same kind of opportunities when I was only working out of my own home.
I had always heard wonderful things about the DDRC. I applied to several agencies, and the DDRC was of the ones that returned my call, and here I am!
What's the best part about being a Team Leader?
Getting to know all of the staff and clients, and just the contact that you have with everybody within the agency.
Can you share a recent client success story from the South Team?
We have many people that have started new volunteer and employment positions. We're also seeing a lot more clients advocating for themselves.
What is your favourite thing about fall?
The weather. It's not too hot, and it's not too cold. You can still do a lot of things outside, and you can barbeque without having to wear a winter coat!